Our Nurses.
At BVECCS, our experienced vet nurses are available for you 24 hours a day. Our Vet nurses are the first friendly faces you will see when you arrive at BVECCS.  They will greet you and make a preliminary assessment of your pet's condition.
Our team of emergency vet nurses seamlessly support our veterinarians to make sure your pet is well looked after during this challenging time.
Our nurses ensure that pets are closely monitored, kept clean and comfortable.  We are proud of our experienced vet nurses – we know they make a huge impact on the quality of care and on the recovery of injured or unwell pets.
BVECCS, experienced vet nurses 24 hours a day
Our vets and nurses are our biggest assets and you can trust them to care for your pets with both skill and empathy.
Christina Balletta (BAppSc VN Cert IV)
Christina will graduated with a Bachelor of Veterinary Technology from The University of Queensland & Certificate IV in veterinary nursing in December 2016. Christina was another talented student that joined BVECCS on practical placement and we simply couldn't let her go! She has a keen interest in emergency & critical care, anaesthesia and analgesia, and wants to further her knowledge and experience in those areas.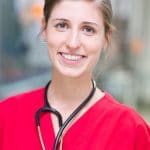 Elodie Couesnon  VN Cert II
Elodie spent a year in France learning all aspects of equine ethology before returning to Australia in 2014. She commenced her veterinary nursing studies and worked at a busy small animal practice in Cairns for 2 years. Whilst completing her Certificate IV in Veterinary Nursing, Elodie turned her interest towards emergency and critical care. She joined the BVECCS team in 2016.
When you come into our after hours vet clinic, our experienced vet nurses will be ready for you 24 hours a day.
BVECCS, Emergency Vet Brisbane,  53 Old Northern Road, Albany Creek, phone (07) 3264 9400.